How are TigerTough Seat Covers Made?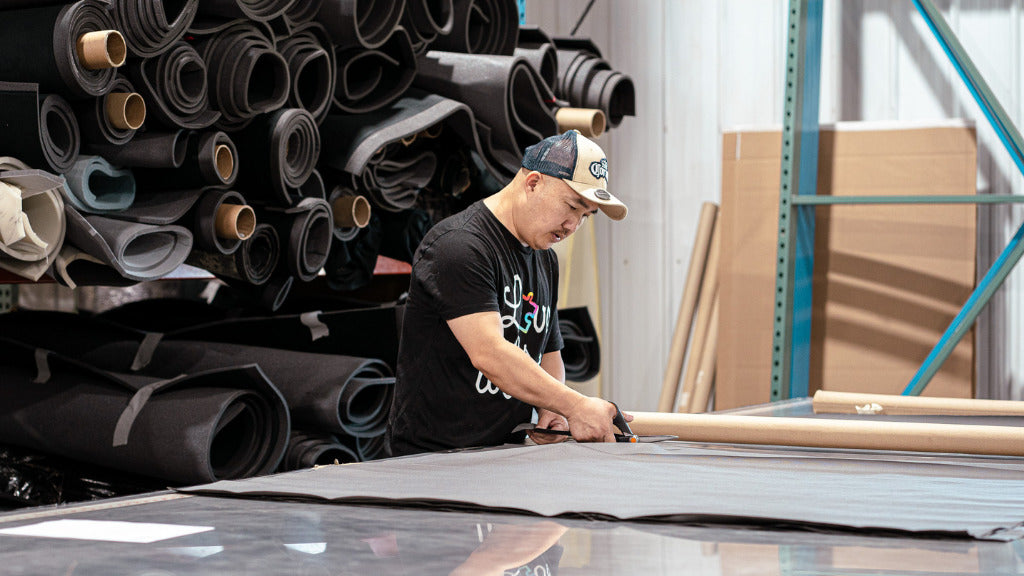 We're proud that TigerTough seat covers are made in the USA. Since 2017, we've handled the process in-house and have streamlined how we do things to make the best seat covers on the market. We wanted to show you how this is done in our Minnesota factory and highlight the incredible team that makes each cover.
We hate to disappoint, but no little elves in our factory make these seat covers. Hard-working American men and women make each cover.
When we add seat covers to our inventory
Step 1: Measure
When we need to create a seat cover for a new vehicle or piece of heavy equipment, we need to bring that vehicle or seat into the shop. (It's not always convenient squeezing a D7 Dozer in our space, so we just take the seats when it comes to heavy equipment.)
Each seat is measured and mapped by hand by our research and development team (R&D). We don't work off of specs–we tried it once, and it wasn't giving the custom fit we strive for. Nothing beats having the real thing in-house.
Step 2: Make a prototype
Once we have accurate measurements and maps of a seat, the team creates a draft–or a sample–of the seat cover, and we try it on the seat. 
At this point, we want to ensure it's easy to install and has a good fit. Sometimes, you just get one or the other, so it's an art to get a balance of fit and ease of installation. 
Typically, two or three drafts are created before we're happy with the sample and consider it a worthy prototype. 
Step 3: Try it out
After a successful sample is made, we reinstall the seat back into the vehicle or piece of heavy equipment and make sure the cover is still easy to install. There might be a couple of tweaks to strap placement or the hook and loop, but these adjustments are relatively minor.
Step 4: Digitize the pattern
Every seat cover is digitized in our CAD program once we've successfully made it. That way, we don't have to remeasure a seat every time we get an order. Can you imagine the hassle that would be?
This entire process takes about one week for a truck with front and rear seats or three days for heavy equipment with a single seat.
Where do you source these trucks and heavy equipment?
Valid question! When a new model is rolled out of the factory, we know we will need to get our hands on one to create the new seat covers. So our truck models come from these sources:
For trucks
Local dealerships 
We have great relationships with some of our local dealerships. They'll give us a vehicle to borrow for a week while we map, measure, and make seat covers for that model. 
OEMs 
Manufacturers (like Toyota) will lend us a vehicle when a new model comes out so that we can get seat covers added to our inventory.
Customers
Sometimes, a local customer has a vehicle we don't have seat covers for. So they'll bring their vehicle in to get measured. 
For heavy equipment
It's less important for us to have the entire piece of equipment in-house than it is for us to have the seat when it comes to heavy equipment. So here's how we do it:
Customers
In the off-season or when a piece of heavy equipment is being serviced, customers will send us the seats from the machines so we can map and make the cover for it. 
We buy it
Yep, sometimes we buy just the seats. This is one of the fastest and easiest ways to get our hands on a heavy equipment seat and map a seat cover for it. You should see the surplus of seats we have in the warehouse.
Every seat cover is made to order (unless we happen to have that one in our limited stock already). Thankfully, we've digitized the pattern for the seat cover in our CAD program, so we can turn to that when a new order is placed. 
Making seat covers when an order is placed
We've made hundreds of thousands of seat covers, but the process looks nearly identical for each one.
Step 1: The material gets cut
We use a super cool C&C machine to cut the fabric. It compresses up to 20 sheets of material at a time and cuts them at once. 
Once upon a time, each piece was cut by hand, but the C&C machine is a lot faster, and it reduces the amount of error. The machine cuts an exact replica of the pattern every time. 
Step 2: It gets sewn
Every single seat cover is sewn by a human using an industrial sewing machine. There's no machine that can sew a three-dimensional piece on its own–they just don't exist. And that's okay. We love knowing that someone right here in the U.S. is making seat covers for our customers. 
If a customer chooses to add a seatback pocket on their seat cover, that gets added when the cover is being sewn. 
Step 3: Inspection
Every cover gets inspected up against the physical sample we made earlier. If a cover doesn't pass inspection, it will either get fixed or scrapped. We don't let anything leave our hands that we're not proud of. And we never sell second-quality or imperfect inventory.
Step 4 (optional): Embroidery
If a customer wants one or a thousand seat covers embroidered, that happens after the cover is sewn. Embroidery is one of the coolest things to watch. Each design has about 15,000-45,000 stitches, and each machine can do about 1000 stitches per minute. Each stitch is programmed for texture and color. Like we said, it's a really cool process. 
The seat gets inspected again after embroidery.
Step 5: Package and ship it
When a cover is good to go, it gets packaged with instructions specific to that exact vehicle or piece of heavy equipment. So, if you ordered seat covers for a 2016 Ford F-150, you'll receive instructions on how to install the covers in a 2016 Ford F-150. 
After packaging, the cover is sent off to its new home, which will protect a seat for the rest of its days.