Covercraft Carhartt vs. WeatherTech Seat Covers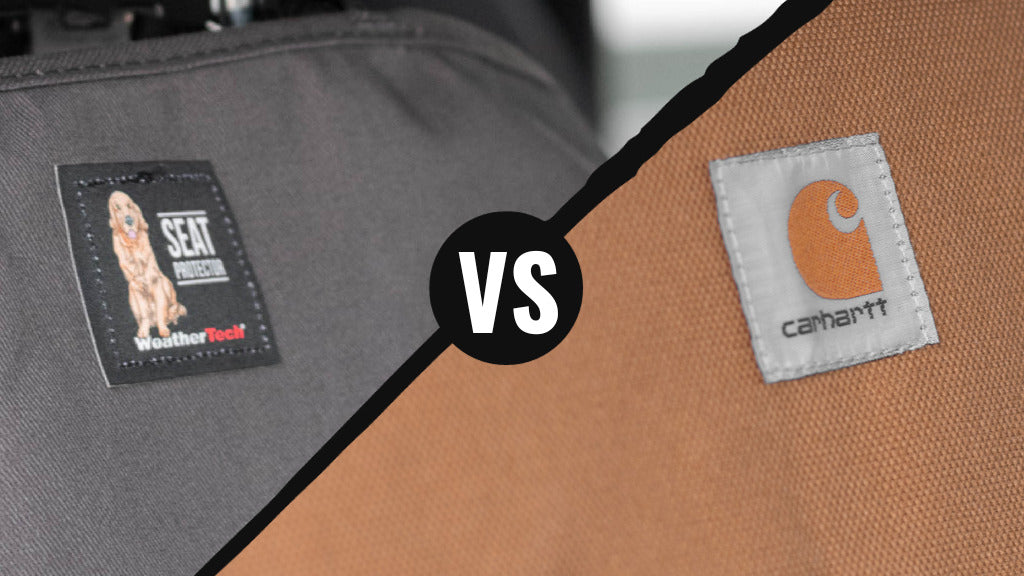 Both brands have earned their stripes, commanding respect in the market for their quality and durability. But brand reputation is just one piece of the puzzle when hunting for the right seat cover.
Your vehicle's interior faces daily challenges, from accidental spills to the wear and tear of regular use. And while both Carhartt and WeatherTech promise top-tier protection, the real question is: which one truly delivers on that promise? 
We've ordered both covers and tried them on a 2023 Ford F-150, and we'll give you a head-to-head comparison to help you make an informed decision for your ride.
Installation
Installation might seem straightforward with seat covers, but it's more than just fitting a piece of fabric onto a seat. It's about ensuring the cover stays in place, doesn't interfere with the vehicle's functions, and looks aesthetically pleasing. Carhartt and WeatherTech have different installation methods, and we'll take a detailed look into both processes.
Covercraft Carhartt Installation
You know Carhartt. Their seat covers promise the same rugged quality as their workwear. 
The aesthetic is instantly recognizable, appealing to fans of the Carhartt brand. However, a slight hiccup emerges in differentiating the driver's seat cover from the passenger's, especially since these covers are airbag-safe, making correct installation crucial.
Installation is straightforward, with simple instructions typical of most seat cover brands (but not typical of TigerTough…just sayin'). The covers are one piece, excluding the headrest, which means less hassle in assembling multiple parts. However, this singular design can be tricky in ensuring a snug fit, especially over prolonged use.
WeatherTech Installation
WeatherTech is no newbie in the vehicle protection arena. Installation of their Seat Protectors promises speed, with our trial run clocking it at under three minutes for a single cover. Their one-piece design is reminiscent of a bib, using two straps behind the seat, one beneath, and a stretchy band around the headrest posts for a relatively secure fit. Simplicity is WeatherTech's motto here.
However, this simplistic approach has its drawbacks. The one-piece design exposes the back of the seat (cue a hospital gown analogy). The lack of snug fit will also lead to the cover shifting with regular movement in and out of the vehicle.
Design and Fit
Design and fit aren't just about making your truck's interior look good. It's about protection and durability. Covercraft Carhartt and WeatherTech each have strengths and potential areas of improvement.
Covercraft Carhartt
Carhartt's design leans heavily into its brand identity—rugged, durable, and ready for work. The SeatSaver Custom Seat Covers, made of their signature "heavy-duty, firm-hand Carhartt® Duck Weave fabric," are an extension of this brand. This 100% cotton fabric feels familiar to anyone who's donned a Carhartt jacket or hat.
However, this commitment to tradition can be a double-edged sword. The material does wear out (we've seen it). A seat cover sees far more friction than a jacket, so it won't last as long.
Each Carhartt cover is customized to your vehicle's specific make and model, making it a custom fit.
The seat covers are constructed as a single piece (aside from the headrest) unlike TigerTough seat covers. While this can simplify the design, it can compromise the fit. Over time, as users slide in and out of their vehicles, the SeatSavers might shimmy and shift, detracting from the snug fit you'd hope for.
"Will not stay in place. Have to fix the cover every time I get out, very frustrating for the price."

- Timothy C.
WeatherTech
WeatherTech's design philosophy seems centered around simplicity. Their Seat Protectors adopt a minimalist, one-piece design approach. 
However, the emphasis on simplicity also leads to compromises. The seat protectors only cover the front, exposing the back—a curious choice that might not appeal to those looking for full protection like a TigerTough seat cover. And the lack of a custom fit for specific vehicles means the covers won't offer a snug, glove-like fit. This might lead to the seat covers shifting more than users like, especially with frequent use.
"Heavy duty, but not enough places to secure them so they don't slide up. Don't really fit right. Pretty expensive for the fit! As long I keep pulling them down the should protect from dirt etc."

- Jericho
Headrest Protection
The headrest cover, while sometimes overlooked, plays a vital role. Protecting the headrest ensures not only the longevity of the material but also the cleanliness and appearance of your vehicle's interior. 
Covercraft Carhartt and WeatherTech take different approaches to headrest protection, and understanding these can greatly influence one's buying decision.
Covercraft Carhartt: Integrating the Iconic Fabric
Carhartt continues its commitment to its signature Duck Weave fabric, even regarding the headrest. The headrest portion is a separate piece (like TigerTough) and offers a consistent look throughout the seat. This ensures that the iconic rugged appearance is uniform, making the interior look cohesive.
Functionally, the headrest cover protects against dirt, wear, and the elements. However, as it's designed as a separate piece, there might be concerns regarding its fit and potential to shift over time, especially if not secured properly.
WeatherTech: The Minimalist Approach
WeatherTech's approach to the headrest is noticeably different. Their Seat Protectors do not cover the headrest, opting for a strap around the headrest bars. While this minimalist design ensures quick installation and removal, it leaves the headrest vulnerable to dirt, sweat, and other potential stains.
From an aesthetic standpoint, the lack of coverage can be seen as a design inconsistency, especially when the rest of the seat is protected. Functionally, for drivers in blue-collar jobs, the unprotected headrest might wear out or discolor faster than the rest of the seat.
Seat Back
Often, the back of the seat is a neglected aspect of protection. It's not as visible as the seat front, but it's just as important when it comes to shielding against wear, tear, and potential damage. Let's just say Carhartt and WeatherTech have different approaches to covering the seat back.
Covercraft Carhartt: Full Coverage with Character
Appearance
The Carhartt Duck Weave fabric extends to the back, ensuring a seamless look throughout the seat. Its rugged texture and signature style adds a touch of workmanship to the vehicle's interior, even in areas not immediately visible.
Fit
The Carhartt design snugly wraps around the seat back, with the material's firmness ensuring it stays in place. This tight fit minimizes the material's chances of sagging or becoming baggy.
Extra Features
Logo: Carhartt's iconic patch sits between the shoulder blades, a subtle brand reminder.
Storage Pocket: A standard feature on their covers, the seat back pocket offers added functionality and storage, a win for those who like to keep things organized.
WeatherTech: Simplified Protection
Appearance
The Seat Protectors by WeatherTech sport a more minimalistic design. If you're into bibs, you'll be into these.
Fit
The design leaves the back exposed, resembling a shield rather than a full cover. This design choice might raise eyebrows among those who prefer complete coverage, but it allows quicker installation. But it also makes for a sloppy fit.
"When the dog is on the seat, the cover moves around every time she changes position. It should not be my job to re-engineer a WeatherTech product to make it work. I have always been pleased with WT products until now."

- Doug S.
Extra Features:
Open Back: The lack of a full back cover is a drawback, but this can benefit those who need quick access to pockets or features on the original seat.
Optional Back Protector: For an additional $60, WeatherTech offers an additional seat back protector, acknowledging that a segment of their audience might prefer the extra layer of defense.
Seat Crease and Bottom
Let's look closer at how Covercraft Carhartt and WeatherTech tackle the seat crease – that intersection where the seat bottom meets the back.
Covercraft Carhartt: Not the Neatest Crease
Seat Crease
Carhartt's one-piece design offers continuity at the crease. This translates to a smooth transition from the seat back to the bottom.
However, the single-piece construction means the crease may shift over time, especially as occupants slide in and out of the seat.
Seat Bottom
Crafted with their signature Duck Weave fabric, the Carhartt seat bottom boasts both durability and a rustic aesthetic.
The design ensures that access to seat controls remains unobstructed, with the cover contouring neatly around the edge of the seat.
Multiple contact points ensure the seat bottom remains anchored, resisting movement and providing a firm seating experience.
WeatherTech: One-Piece Flaws
Seat Crease
With WeatherTech's single-piece Seat Protectors, the seat crease design emphasizes functionality. Its design can act as a catcher for crumbs and debris – a practical touch for those with kids or frequent eaters on the go.
But, much like Carhartt, this single-piece approach may lead to the cover shifting over time, compromising the initial neat appearance.
Seat Bottom
WeatherTech's focus on functional design shines through with its skirt-like approach to the seat bottom, wrapping around its base.
This skirt design may drape over some seat controls, potentially causing slight accessibility issues for some vehicle models.
The absence of anchoring points under the seat means the seat cover might shift slightly during use, which may be a point of consideration for some users.
Airbag Compatibility
⚠️ Spoiler alert: Not all seat covers are airbag-compatible.
Covercraft Carhartt: Safety at Forefront
Carhartt's seat covers have been meticulously designed to work seamlessly with side seat airbags, ensuring unhindered deployment when needed.
Proper installation is paramount. Even with the best designs, incorrect fitting can pose risks. Adhering to the provided guidelines is crucial.
WeatherTech: A Questionable Oversight
WeatherTech, despite its reputation in vehicle protection, has a glaring oversight in their Seat Protector design concerning side airbag safety.
Their installation instructions say not to put the covers on vehicles with side airbags. Since most new vehicles have these airbags, the WeatherTech Seat Protectors shouldn't be installed.
Their securing straps can potentially cover side seat airbags, making them a hazardous choice for most modern vehicles, especially those post-2014 where side airbags are prevalent.
This design flaw isn't a tiny hiccup; it's a major safety concern. There's no room for nonchalance when it comes to life-saving features.
The Non-Negotiable Nature of Airbag Safety
The data doesn't lie. The National Highway Traffic Safety Administration's findings underline the significance of side airbags in saving lives. So any seat cover that doesn't prioritize this essential safety feature should considered cautiously.
When choosing between brands, remember that safety isn't negotiable. Whether you lean toward Covercraft's Carhartt or any other brand, ensuring the seat covers comply with the vehicle's safety features and are installed as directed is vital.
Price
Let's check out both brands' price points and analyze their value.
Covercraft Carhartt: A Premium Offering
Price Point
Priced at $428 (as of our last check for a 2023 Ford F150 model), Carhartt SeatSavers position themselves in the market's premium segment.
Value Proposition
The fabric's resilience, iconic Carhartt branding, and tailored fit justify the steeper price for many. As an integral safety feature, airbag compatibility adds to its value.
Their periodic sales and coupon codes offer some relief, making them more accessible during promotional periods.
WeatherTech: Surprisingly Steep for the Offering
Price Point
To cover the front and back of bucket seats (not the sides, as those are still exposed), WeatherTech Seat Protectors carry a price of $420. ($150 per seat protector and $60 for each seat back protector.) And your headrests are still naked in this scenario.
Value Proposition
At face value, WeatherTech demands a premium price. Given the safety concerns around airbag compatibility and the less-than-perfect fit, the value for the price could be better.
Their "universal" design philosophy might cut costs in production, but it might not always align with consumers' expectations for a tailored fit.
Price Overview
With Carhartt at $428 for a custom fit and WeatherTech at $410 for a universal fit, there's not enough cost savings for us to justify buying WeatherTech.
Customer Feedback and Reviews
Covercraft Carhartt seat covers earned a notable 4.5-star rating with over 2,000 reviews, showcasing their appeal and reliability. Many drivers admire the robustness and look of their signature Carhartt fabric.
On the other hand, WeatherTech's Seat Protectors aren't as loved, averaging a 3.2-star rating. Customers often mention fit issues, coverage gaps, and concerns regarding airbag safety. While WeatherTech has mastered other vehicle protection, their seat protectors differ from their top-tier product.
Conclusion
Wrapping up our in-depth comparison of Covercraft Carhartt and WeatherTech seat protectors, here's a snapshot of what each brand brings to the table:
Covercraft Carhartt
Brand Legacy: Carhartt leverages its iconic Duck Weave fabric and its established reputation in durable workwear.
Design Philosophies: The seat covers offer a familiar feel, though there are areas, such as seat fit, where improvement is needed,
Price Point: Retailing at around $428 for their SeatSavers, Carhartt combines brand trust with a slightly premium price.
WeatherTech
Brand Strength: A well-established name in vehicle protection, WeatherTech is known for precision and craftsmanship.
Safety Concerns: The potential risk to airbag deployment is a major concern that users need to be wary of.
Design and Fit: Despite a more streamlined design, there are compromises, especially around seat crease and headrest protection.
Price Consideration: Priced at approximately $420 for complete front seat protection (including additional seat back protectors), WeatherTech's offering seems less compelling, especially when factoring in the safety reservations and lack of headrest cover.
No pressure, but when it comes to seat covers, your choices play an important role in determining your car's interior's safety, aesthetics, resale value, and durability. If you were to ask us, we'd choose Covercraft's Carhartt over WeatherTech's Seat Protector. When selecting seat covers, it's crucial to weigh aesthetics, comfort, safety, and functionality.
| | CoverCraft Carhartt SeatSavers | WeatherTech Seat Protectors + Seat Back Protectors |
| --- | --- | --- |
| Cost | $428.00 | $410.00 |
| Star Rating | 4.5 | 3.2 |
| Warranty | 3 year limited | Limited Lifetime |
| Material | Duck weave fabric | Polycotton twill fabric |
| Fit | Custom | Semi-custom |
| Waterproof | Water resistant | Water resistant |
| Airbag Safe | ☑️ | |
| Colors/Patterns | 2 | 4 |
| Made in the U.S. | U.S. and Mexico | ☑️ |
| Seatback Pockets | Yes | |
All specs based on a 2023 Ford F-150.