Airbag-compatible seat covers: Are they safe?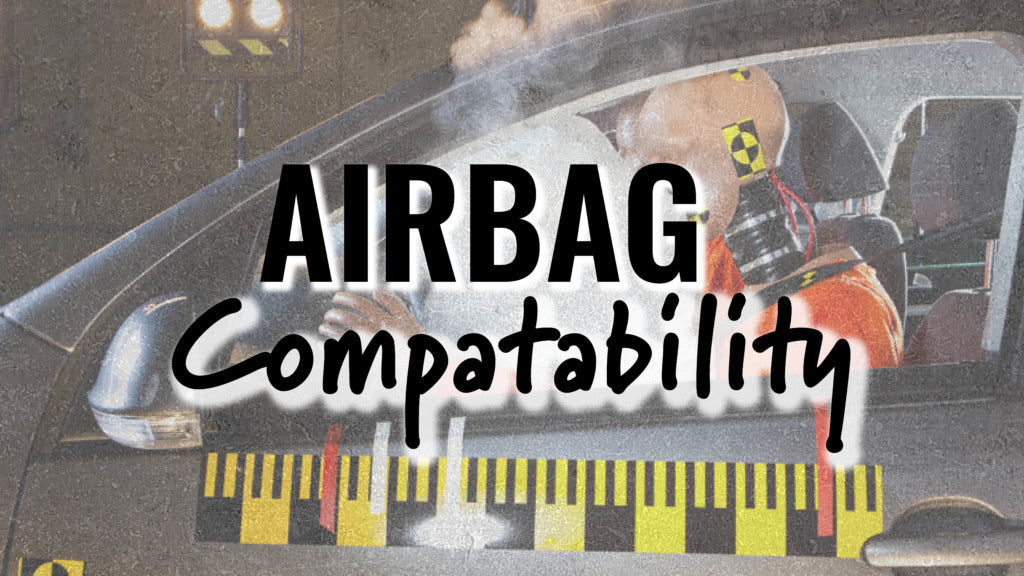 To be direct, yes, airbag-compatible seat covers are considered safe if they allow the airbag to deploy in third-party testing.
But for those who want to know more details, this article is for you.
Airbags are relatively new in automobile history. They were heavily considered for passenger vehicles in the 1950s, according to The Rough Road to Airbags. The concept was brought to Chrystler, but they weren't interested. Ford and General Motors experimented with prototypes but couldn't mass-produce them. 
But it wasn't until 1990 that the first collision with two cars deploying airbags was recorded. Since then, airbags have saved over 50,000 lives.
So what are airbag-compatible seat covers, and why are they important?
What are airbag-compatible seat covers?
Seat covers are considered compatible airbags when holes or flaps allow the seat airbag to deploy. They're considered safe for installation.
When you install seat covers on a newer (2012+) vehicle, you're almost guaranteed to cover up an airbag in the side of your seat. If your seat cover doesn't allow the airbag to deploy, you will likely be smashing your head and upper body into the side of the vehicle in the event of a crash. That's not something fun to think about, but it's true.
Watch this video and see how the torso airbag in the seat works with the ceiling airbag to protect the driver from hitting the side of the vehicle:
That doesn't mean you shouldn't install seat covers on your vehicle. Just don't install cheap, universal-fit covers. But watch out; even well-known manufacturers don't always have airbag-safe covers.
If the seat cover doesn't mention anything about compatibility, and you see straps or anything covering the side airbag, it's probably best not to install it in your car, truck, van, or SUV.
Which brands of seat covers are compatible with airbags?
In our research, we've found the following top brands to be considered safe:
Covercraft
Wet Okole
Canvasback
ShearComfort
TigerTough
We haven't looked to see if these brands (other than TigerTough) have been independently tested, but according to their websites, they're considered safe with airbags. We suggest you only install seat covers that are independently tested and verified for airbag compatibility by a qualified third-party laboratory.
So TigerTough seat covers are airbag-safe?
Yes.
TigerTough seat covers have been independently tested and verified by MGA Research Corporation in Troy, MI. Watch the airbag deploy in under 30 milliseconds in the testing video below:
Whether you're installing truck seat covers or if they're for your car or van, check and make sure that the cover will allow your airbag to deploy. You owe it to yourself and your passengers.
Why are they important?
When adding aftermarket parts to your vehicle, you need to ensure that you don't hinder any of the safety features of your truck, van, car, police vehicle, etc.
All vehicles today have airbags in the steering wheel and passenger side dash. Most vehicles come with them in the side of the seat back. Some cars have airbags in the A-pillar (by the dash), the B-pillar (by your head when you're in the seat), the ceiling, and other locations in the vehicle.
We HIGHLY recommend checking your owner's manual before modifying your vehicle's interior to ensure you aren't compromising your and your passengers' safety. And when you're ready to install seat covers, be sure they're compatible with your airbags.
","yoast_head_json":{"title":"Work Trucks Archives | TigerTough","description":"Shop truck custom-made seat covers, accessories, and gear from TigerTough. Use the filters to find your perfect-fitting seat covers!","robots":{"index":"noindex","follow":"follow"},"og_locale":"en_US","og_type":"article","og_title":"Work Trucks Archives | TigerTough","og_description":"Shop truck custom-made seat covers, accessories, and gear from TigerTough. Use the filters to find your perfect-fitting seat covers!","og_url":"https://www.tigertough.com/category/work-trucks/","og_site_name":"TigerTough","twitter_card":"summary_large_image","schema":{"@context":"https://schema.org","@graph":[{"@type":"CollectionPage","@id":"https://www.tigertough.com/category/work-trucks/","url":"https://www.tigertough.com/category/work-trucks/","name":"Work Trucks Archives | TigerTough","isPartOf":{"@id":"https://www.tigertough.com/#website"},"description":"Shop truck custom-made seat covers, accessories, and gear from TigerTough. Use the filters to find your perfect-fitting seat covers!","breadcrumb":{"@id":"https://www.tigertough.com/category/work-trucks/#breadcrumb"},"inLanguage":"en-US"},{"@type":"BreadcrumbList","@id":"https://www.tigertough.com/category/work-trucks/#breadcrumb","itemListElement":[{"@type":"ListItem","position":1,"name":"Home","item":"https://www.tigertough.com/"},{"@type":"ListItem","position":2,"name":"Work Trucks"}]},{"@type":"WebSite","@id":"https://www.tigertough.com/#website","url":"https://www.tigertough.com/","name":"TigerTough","description":"Seat Covers That Work.","potentialAction":[{"@type":"SearchAction","target":{"@type":"EntryPoint","urlTemplate":"https://www.tigertough.com/?s={search_term_string}"},"query-input":"required name=search_term_string"}],"inLanguage":"en-US"}]}},"_links":{"self":[{"href":"https://www.tigertough.com/wp-json/wp/v2/categories/982"}],"collection":[{"href":"https://www.tigertough.com/wp-json/wp/v2/categories"}],"about":[{"href":"https://www.tigertough.com/wp-json/wp/v2/taxonomies/category"}],"wp:post_type":[{"href":"https://www.tigertough.com/wp-json/wp/v2/posts?categories=982"}],"curies":[{"name":"wp","href":"https://api.w.org/{rel}","templated":true}]}}],"postsToShow":3,"displayPostContent":true,"excerptLength":19,"displayPostDate":true,"postLayout":"grid","displayFeaturedImage":true,"featuredImageSizeSlug":"medium","addLinkToFeaturedImage":true} /-->